The Ultimate Guide To Shaving Your Face As A Woman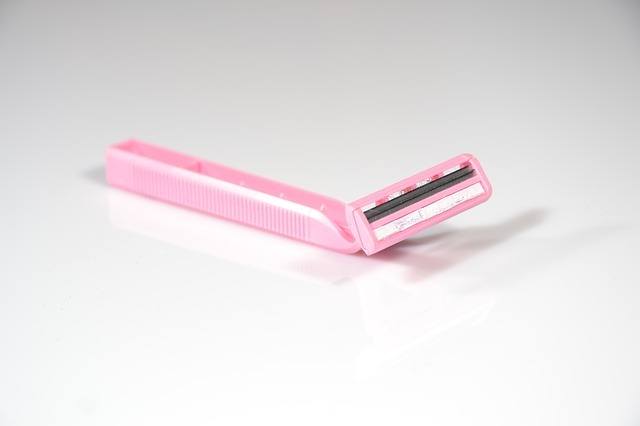 Shaving your face as a woman is no longer the taboo topic it once was. What is a daily ritual for many women with hirsutism, is starting to become more popular. We've seen Jenna Marbles shave her face on YouTube, but women, who shave have also been featured on mainstream TV shows like Dr. Oz or The Doctors and even The Bachelor. Icon Marilyn Monroe was also known to use a razor on her face for a smoother look and feel. While many women with hirsutism consider the daily shave a necessity (not all though!), the beauty community loves how make-up simply looks better on a shaved face.
Whatever your reason for being a woman shaving her face may be, we've got the best tips for you to avoid cuts, skin irritation, those annoying little red bumps, pimples and any other unwanted results!
Is Shaving the Face Good or Bad For A Woman? (Pros and Cons)
If you're new to shaving your face, you might wonder whether shaving the face is good or bad for a woman and whether you should be adding this ritual to your beauty routine. We've collected the pros and cons in the overview below to help you decide, whether or not a facial shave is for you!
How to Shave Your Face As a Woman
When I started shaving my face, I wasn't very smart about it. I just used my regular razor, a Gilette Venus. I used it everywhere. On my legs, under my arms, on my face. The results were ok, but I've really managed to perfect my face shaving routine since those humble beginnings and my results are so much better now. Here are the steps I use, when shaving my face:
Step 1: Prepare Your Skin
Before shaving my face, I make sure the skin of my face is clean. I can recommend using astringent for this. If I have a pimple somewhere, I avoid shaving the area altogether.
Step 2: Shave Your Face
When shaving my face I use oil to help soothe the skin and make the shave cleaner. This works great for me. If you have oily skin you might want to use regular shaving cream though. It works just as well. I like the oil, as I feel like I'm pampering my skin, while shaving.
I usually shave downward a couple of times in the direction or hair growth and then upward. This way I avoid irritation.
One thing I learned the hard way is to be very gentle. Don't push the razor against the skin. If you feel the need to push the razor against the skin, you should probably change your razor. It could also be an indicator, that it's time to change the blade on the razor you're using.
I shave all areas of my face, no matter if they're covered in peach fuzz or terminal hairs.
If I'm short on time, I sometimes shave in the shower. The steam helps to open up the pores and makes the hairs softer, which helps the shave.
Another trick I use: I push my tongue into my cheek from the inside to help shave around my cheeks, lips and chin.
Step 3: Care For Your Skin
After the shave I like to skip the fancy creams, as I feel heavy creams can sometimes clogg the pores right after a shave. My go-to product is a simple aloe-vera gel, which hydrates the skin and feels really refreshing. I go back to my heavier creams a day or two after that.
What is Dermaplaning?
Dermaplaning is a procedure done in many spas and dermatologist offices. It is essentially a method of shaving your face. The only difference is, that it's done with a surgical blade in a salon.
Using a Dermaflash can be a great alternative to frequent salon visits to get your face shaved. The Dermaflash may be a little more on the pricey side, but so are salon visits. It's a great tool, if you'd like to give yourself a dermaplaning treatment at home.
What Razor Should I Use to Shave My Face?
If you're new to shaving your face, you might be wondering, which is the best razor to use. Below are some of my recommendations. Depending on your hair and skin type, different tools might be best for you.
Ardell Trim and Shape Grooming Tool
The Ardell Trim and Shape Grooming Tool, is perfect, if you're new to shaving your face and are looking to try out a surgical blade. It is a great alternative to a standard razor and very cheap. The blades come in a pack of 3. I recommend, you use one blade no more than 3 or 4 times, so if you're shaving your face a couple of times a week, you'll need one or two packs a months.
The razors themselves work really well and come at a low price point. The wear out after a couple of uses, but this is expected and happens with all blades.
This tool is great for dealing with peach-fuzz, but also really efficient getting rid of darker, coarse hair.
Bevel Shave System - Starter Kit
If you're a little nervous about using a surgical blade, but are unhappy with the results your razor gets you, it might be time to upgrade to a Bevel Shave System for a cleaner and smoother shave.
This Bevel Shave System - Starter Kit has everything you need for a good shave. It's clinically tested to help prevent razor bumps and irritation. This is a premium product and will last you for a long time. You should however disinfect the blades between uses.
You can use this razor on your face, but also all other areas of your body, which makes it a great "allround shaving tool".
Due to the larger blade, it is a little more difficult to shave the face with precision.
DERMAFLASH - 2.0 Luxe Device
The DERMAFLASH 2.0 Luxe Device comes at a higher price point, but it's so worth it. It was developed for women, who want to take dermaplaning into their own hands and do it in the comfort of their own home. It may not be cheap to buy initially, but you will save you money down the road as you no longer have to visit the beautician for your dermaplaning treatment.
The DERMAFLASH removes dead skin cells and the little hairs from your face. This newest generation features ergonomical design, two speeds and a stainless steel blades. It's really an all-in-one tool, that leaves you with smooth, radiant skin.
The DERMAFLASH needs to be charged before use and comes with a USB charging cable.
What are the Benefits of Shaving Your Face
Believe me: I have tried every trick in the book: Creams, plucking, covering my face with heavy make-up, but shaving my face is definitely my go-to option for unwanted facial hair these days. Here are some of the benefits I've experienced, since I started shaving my face:
1. Make-up looks better on me
Since shaving my whole face regularly, my skin glows, when I put on my foundation. It just looks so much better.
2. My Skin Gets Less Irritated
I used to pluck the dark hairs on my face, which didn't lead to much success. Whenever I wanted to pluck the dark, coarse hairs, I had to grow them out a little, so I could pluck them with my tweezers. Those days or growing them out were the worst. I pretty much wouldn't make any plans and stay at home, so I wouldn't be seen in public with a hairy skin. Now I shave and it's much quicker, less painless and while I have to do it more regularly, than plucking I much prefer this method. When plucking I used to also get pimples a lot, which is not the case with shaving. My skin just gets less irritated overall.
3. It's a Great Way to Exfoliate
I used to only shave the hairiest parts of my face, my side burns and chin, but have now started to shave my whole face, as it is great to exfoliate. When shaving your face, you remove the superficial skin cells, which can make your skin feel better. I've noticed, that when removing the top layer of the skin on my face, my products seem to work better, as it's easier for them to penetrate my skin deeper.
Frequently Asked Questions (FAQ)
Should you use shaving cream on your face?
No, shaving and waxing don't cause the hair to grow thicker or faster. Everyone has a certain number of hair follicles. Unless they are destroyed with lasers, which some women with male-pattern hair growth decide to do, they will continue to grow back at the same rate. The thickness will also stay the same.
Does shaving your face every day increase hair growth?
Many shaving creams on the market today have anti-inflammatory and skin-protecting ingredients, which helps prevent irritation and soothes the skin. for a clean shave you can also prepare your skin with an astringent or use oil. Using oil, you can shave and treat your skin at the same time.
Can you use an electric razor to shave your face as a women?
Some women prefer using electric or battery powered razors to shave their faces. And in my opinion this can work just as well. If you're using an electric razor, you can and should sanitize between uses. This helps to avoid unwanted problems like red bumps and pimples. If you decide, that using an electric of batter powered razor is your method of choice, get your own and don't use your boyfriend's or husband's for best results.
Shaving Your Face: Peach fuzz vs. Terminal hair
How well shaving your face works also depends a little bit on the type of hair. There is a difference between peach fuzz and coarse black hair (terminal hair). How much and what your hair you have on your body greatly depends on your genetics and hormones. Hormonal imbalances can cause male-pattern hair growth. This is also called hirsutism.
Shaving Peach Fuzz on Your Face
If your face is covered in baby hair and you want to get rid of it, shaving your face might be a great option for you. Don't worry about hair growing back darker and stronger. This is not the case. 1 or 2 days after shaving, when touching your skin, you might feel a little stubble, but don't worry. It is invisible and will go away shortly. Women with peach fuzz usually shave their face once or twice a week.
Shaving Dark Coarse Hair on Your Face
Many women with a hormonal imbalance, like hirsutism or PCOS (polycystic ovary syndrome) struggle with dark, coarse hair (terminal hair) on their chin and side burns. Those women are generally not new to shaving their faces and usually shave their face every day.
Face Shaving Tutorials
Luckily these days, there's quite a few tutorials out there with helpful tips on shaving your face as a woman. Everyone has there own little tips and tricks, so I like to watch those videos every once in a while for a little "face shaving inspiration". The tutorials below are some of my favorite and you will notice, that I've incorporated some of their tips into my face shaving routine.
Michelle Money
Michelle Money reached popularity through her appearances on The Bachelor and Bachelor Pad. She has also inspired many women to start shaving their faces, after publicly admitting to it. In this video, she shows you how to do it and what a difference it makes. The secret to her face shaving routine? Crude Oil! Michelle Money shaves her face around 2 times a week.
Raquel From Inside To Outside
Raquel is a popular beauty youtube, who also regularly shaves her face. She prepares her face using an astringent and uses Ardell's Brow Trim Tool to for the actual shave.
Carli Bybel
Carli Bybel's YouTube is the go-to place for lots of girls and young women for all things beauty. In this video Carli teaches you how to shave your face. Her main reason for doing it is how much better make-up looks on a shaved face.
Women Shaving Their Face for the First Time
I've been shaving my face for quite a while now, the videos below might be for you! Especially the first one is really funny! You'll see, that there is no need to be nervous or embarrassed about shaving your face as a woman. It's a thing!
Before and After: This Woman Is Shaving Her Face!
If you're still on the fence, whether or not you should shave your face, here's some before and after pictures we've collected including links, so you can learn more about the face shaving routines of the women shown.
Conclusion: Should You Shave Your Face As a Women?
As you can probably tell from the article, I definitely thinks so and have personally experienced great benefits, once I started shaving my face. If you think shaving your face isn't for you, there are also other alternatives like using Nair or Veet cream, waxing, plucking, IPL and laser hair removal, which are more permanent solutions.
If you suspect, that your excess hair growth is caused by hormonal imbalance, you should speak to your doctor to understand the root cause of the coarse hair on your face. Supplements can also help regulate hormones and some women have had great results treating excess hair with spearmint.
Have you tried shaving your face? Please share your experience in the comments!